First things first - this blog hasn't bit the dust but I have been working on other things and trying to sort out everyday life junk since last time. But I have a bunch of backlogged posts and ideas for posts one of which is this.
In punk and metal there's several bands with "Brats" in their name - so I'm gonna sort 'em out for ya.
Let's start in Denmark with the short-lived but tremendously underrated Brats. These Danish Brats started in 1977 not long after the UK & US punk explosion. Their releases span just 2 years but in this time they moved from raw punk, to a combination of punk & hard rock to heavy metal.
Their line up originally had just 1 future Mercyful Fate member - Hank Sherman known then under his "nom du punk", Hank De Wank. The rest also had punkoid names: Franz De Zaster on vocals, Mikey Rat on bass and Eddie Haircut on drums. Between the these first two line-ups they released: 1 LP, a split 7" and had an LP worth of material from the early days that thankfully was released in 2008.
The Brats first official release is 3 tracks on the Dane punk comp. Pære Punk (Pear Punk? not 100% sure about this translation). Their 3 tracks on the comp: "Dreams", "I Do What I Wanna Do" and "Magazine" are all filled with great riffs, raw Ramones-y/Rotten-y vocals and super catchy parts. Much of this proves that punk didn't die after 1978 as it was plenty alive int the rest of Europe and of course continued in the US & UK if you just looked beyond the generic history (i.e, "Sex Pistols break up = punk is dead").
Other early songs showed up later on several
1990s punk compilations
such as: 1997's
Bloodstains Across Denmark
and
1998's
Springtime In Belsen.
Of course being an obscure punk act they show up on Hell, Norway's finest compilation(s):
Killed By Death
- in this case #007. This KBD comp also features The Cleavers from Portland who I wrote about on
my other blog
.
The line up changed in 1980 with Hank playing guitar alongside Michael Denner, (Lars) Monroe on drums (plus the occasional synth and piano) as well as new vocalist Yenz (Leonhardt) on lead vocals.
The 1980 Brats album is much light years ahead in production and song structure. In part this had to do with being on a major label, CBS. CBS who would also sign fellow Danes,
Pretty Maids
several years later. During their time with CBS (which was really the Dutch division which unfortunately didn't expand into the UK or US) - Brats released a
split 7"
with the short-lived act, Tyrantz. There's at least 3 different versions of that split 7" shown
here
. The band sold a good amount of record (I dunno the exact number) in France and also got some radio play in The Netherlands. The Dutch CBS also put out the
Brats 1980
LP. (Collector nerd note: first pressings came with a sticker.)
The 1980 songs mix the original punk energy with often longer songs - the shortest being the excellent "Punk Fashion" clocking in 1:34. The mellow intro into fast and bombastic riffing of the 2nd track "Tame Me (Insomniac)" has a chord progression that's foreshadows build up on Mercyful Fate's "Come to the Sabbath". The poppier mid-paced "B-Brains" recalls the Damned crossed with the NY Dolls - especially in Yenz's vocals. Other things that reference their Fate-ful future are the church bells in the long, semi-ballad "Complex (Don't Destroy Me)" and the lyric "you are the future/the next decade is yours/there'll be 1000's of maniacs/and they won't find no cure."
The short-lived and very appropriately named Danish label, Diamond Records released
1980 Brats
on CD. I luckily was able to score a copy of this around 2002 at Rasputin's in Campbell, CA. Prior to this Brats were a band I knew of and every once awhile you'd see bootleg tapes of theirs at the original Berkeley Rasputin's Records (Telegraph Ave location next to Bank of America) but paying $8-$10 for 1 tape was out of my range then - even if it was filled with killer Denner/Sherman riffage.
The last Brats line up had new vocalist King Diamond from short-lived hard rockin' proggers,
Black Rose.
The band also saw Michael Denner placed by new 6-stringer Carsten Van Der Volsing. They recorded an album-length demo in January 1981 which wound up on bootlegged tapes that got traded around a bit as Mercyful Fate's popularity grew in the early 80's. As for the change to a more metal focus sound Hank said in an interview with
Snakepit
magazine:
It was specially my progression into the heavier stuff and of course King's vocals so it was a very natural transition. Also remember IRON MAIDEN and other band started to hit the scene and of course that also inspired us.
More metallic 2nd-era line up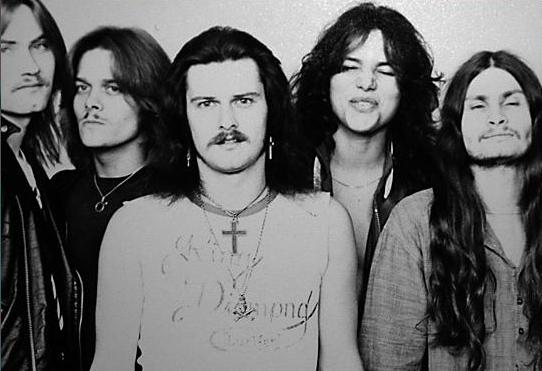 King-era Brats or super early Fate (note the cross is right-side up)?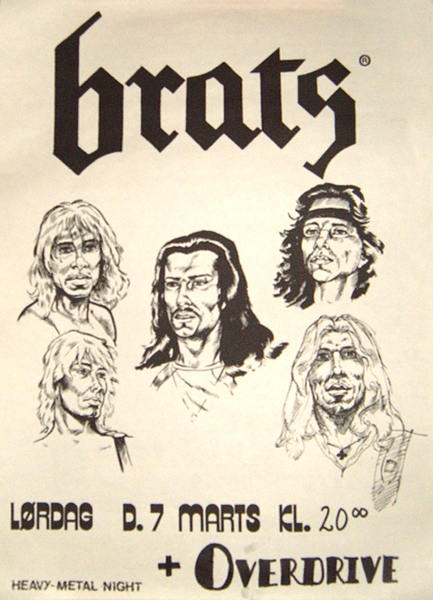 1981 Flyer from Denmark (I wonder if this is the Swedish Overdrive on the bill)
Several of the demo tracks became Fate songs. The neat thing about these changes between Brats and Mercyful Fate is how many different versions there are. In some cases, there's 2 different versions of what later became an album track on
Return of the Vampire
,
Melissa
and
Don't Break the Oath
.
Brats 1981-era songs and their various "Fate-ful" incarnations:
Some Day = On a Night of Full Moon -> Desecration of Souls
Death Kiss = Walking Back to Hell - > A Dangerous Meeting
Love Criminals -> Into the Coven
Nightriders -&gt ; Curse of the Pharaohs
Powers of Darkness -> Return of the Vampire.
Few metal bands aside from Hellhammer had a similar song writing process. For more see/hear Hellhammer's -
Demon Entrails
of the band's 1983 recordings and the Celtic Frost's -
Demos '84 & '85
.
Yenz later showed up in all sorts of bands. First with the chee-zee Geisha.Their song "Shock Rock School" is a "should been in a B-movie" soundtrack. Other members of Geisha had connections with King Diamond's solo band and Mot
ö
rhead as Mickey Dee was once the drummer. Geisha comes
off like the Danish version of Helix for what that's worth (3 kroner?). Dumb & slightly rockin' and at least sometimes fun. Later Yenz was in power metallers, Iron Saviour, and goth-cheese meisters, Lacrimosa.
In 1973 Hollywood had the rather good proto-punkers Berlin Brats. Berlin Brats' sound is a rawer mix of the dirtiest side of the Stones and NY Dolls. They were called by Rodney Bingeheimer "The West Coast's first Punk Band". Their song "(I'm) Psychotic" uses a similar call out chorus as The Sonics'
"Strychnine"
and the spelled out bit 'ala W.A.S.P.
"L.O.V.E. Machine".
Their last show was headlining S.F.'s Mabuhay Gardens with the Avengers. Their break up lead to another rather good and also overlooked West Coast punk act,
The Mau-Maus
.
Hollywood Brats - Pretty boys with an ugly rep.
'Round the same time of the Berlin Brats, Tinseltown had the Hollywood Brats who had the incredible "punk as fuck before punk" tune
"Sick on You".
Hollywood Brats were underground shock-rockers who according to RiffRaff.net:
were banned for like for puking in the drinks and throwing an ashtray at Bryan Ferry's head
The (Hollywood) Brats showed nothing but contempt for the audience. Men wanted to fight them. Crowds tried to beat them.
Hollywood Brats' mayhem continued with a load more of
controversy
on the local scene. I wonder if their crazy antics would continued had they crossed paths with the Berlin Brats? Or any of these other Bratty bands.
Over in Detroit there was the glam punk of the Trash Brats. The Trash Brats started in 1986 and ran 'til 2002 (with a few reunion shows in 2010). Trash Brats mixed the catchy chorus of Hanoi Rocks and the riffing of the classics like NY Dolls/The Heartbreakers and at times overlapped with mid-paced pop-punk with actually
pretty good results
. Weirdly they opened for Kid Rock in one of the bigger venues in Detroit and appeared on a garage rock comp back in '86 under the name
Brat
. There's a good interview with at the
Detroit Metro Times.
This one's below is a killer pure punk tune.
Going back to Denmark and the modern-era we have
Scavenger Brats
who have a tune of rather rippin' thrash metal that mixes (proper-era) Slayer, Dr. Know, Sacrifice (Canada) and The Accüsed. Scavenger Brats have also been named checked in the
"new wave of whatever the fuck it is"
scene in Kopenhavn.
During coke n' spandex-era Hollywood were the "not quite from Flatbush", Brookyln Brats - Their sound was the bog-standard "American" hard rock/lite metal. Lots of groggy mid-paced tunes with the mechanical echoing drums and really dumb, uninspired choruses - 'ala every KISS record in the 80's. Swimming somewhere between a dull ocean of early 80's KISS, Quiet Riot and Whitesnake. There's a few "almost" moments on
"We Live to Rock"
but it's way too stuck on the chorus repeating 8000 times.
What in Hades? Marvel Comics, Tony Danza AND Brookyln Brats!?!?
I used to see this picture disc taking up space at Dublin, CA's The Record Factory between the Bathory and Black n' Blue LPs. The only one who championed these guys was
Metal Forces
, not-too-metal writer,
Kelv Hellrazer
Regardless of how far he's on the "false-o-meter" - I do admire that Kelv dug deep into the treacherously fluffy, Aqua-netted, tight trousered ditch that was 1980's hair farmer rock and A.O.R. Now more information than you require about
Brookyln Brats
.
If you
still
need cheese there's always New York's Battle Brat. Not only were these guys were cursed with an incredibly generic sound that floated somewhere between Icon/Dokken/Keel - they also had some of the worst album covers this side of Nuclear Blast's department of
photoshop horrors
. That said, they did have some OK speed metal tunes
early on
that come off like a discount Agent Steel.
Lastly, metal-archives has an entry for a circa: 2004 umlauted Chicago thrash act,
The Bräts
. While on the surface this isn't anything special check their lyric topics: Clones, Blood, Killing, Death, Rocking Out. Now the question is did they ever cover
Alice Cooper's "Clones"
?
Endnotes:
1) Denmark's Brats info from the liner notes of
1980 Brats
CD,
The Lost Tapes - Copenhaven 1979
LP and
Snakepit magazine No.14
- Hank Sherman interview. I have yet to hear or see anything on the other pre-Mercyful Fate-connected bands like Starchaser and King's other early band, Brainstorm. However, I can't forget the post-Brats/pre-Mercyful Fate band, Danger Zone. Danger Zone was Michael Denner's project after he left Brats. He decided to play with King, Hank, drummer "Old" Nick Smith & Timi "Grabber" Hansen. As the metal-archives entry says:
Michael Denner, Timi Hansen and (Ol') Nick Smith joined Hank Sherman & King Diamond in their new band Mercyful Fate.The rest is history...
2) Much more detail about the Brats vs. Mercyful Fate versions can be found in the massive Mercyful Fate/King Diamond article and interview in
Chips & Beer magazine #2.
5) Berlin Brats info from line notes to their CD, Believe it or Rot (1973-1976) via Rachet Blade Records.
6) Discogs mixes up the info for the Hollywood Brats & (Danish) Brats on their page for the
The Whiplash Tapes comp
and links the (Danish) Brats as the artist to "Be A Man".
7) "American" style production/sound was used as a generic catch all for "making a shitty, super-polished record" usually with a with full of bad ideas U.S.-producer: Michael Wagner's work with Motley Crue and Raven. Or when Krokus went from being a pretty good Swiss heavy rock/metal act (on
Headhunter
) to doing naff tunes exactly like
every fluff rocker on the Strip.
8) Metal bands named Brat in it's single form also show up in metal-archives. One of which was from Largo, Florida between 1981-84 and sound like a mix between Armored Saint, early Jag Panzer & GWAR! (Well the occasionally the vocalist & the backing chorus reminds me of them).
Check 'em out
. The second Brat were from Philly and were ex-members the even more generic named
The End
.
9) No, I'm
not
gonna write about Da Brat. She's not exactly underrated. Same goes for the Lower Class Brats.